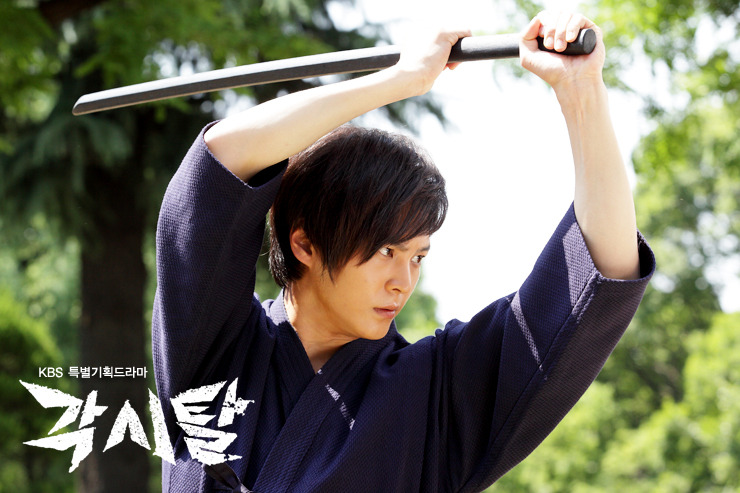 Actor Joowon has earned the recognition of being the 2012 Entertainment Excellent Blue Chip, attracting attention.
Joowon In KBS Bridal Mask, has been hitting high viewership ratings, vividly displaying his worth as an actor.
At the same time, in KBS 2N1N, honest and steady in his youthful image, he has widely received lots of love from the audience.
Specially in Bridal Mask, acting dual roles as the Imperial Japanese police Lee Kangto and at the same time, being the national hero, Gaksital, he has perfectly delivered the action as well as the exquisite acting ability. Through the OST, he display singing prowness no less superior than a singer, receiving widely good reviews. This song, Love and Also Love, is sad and filled with tenderness. Joo Won's sensual voice mixed with the mellow melody has become a hot topic on the various websites.
With his background as a musical theatre actor, Joo Won has sung "My Love" in Baker King and in Bridal Mask " Judgement Day" using his special unique singing ability, earning recognition
No matter what, Bridal Mask first class hero has always been Joo Won.
Bridal Mask Producer Lee : "Since we started filming from this February, Joo Won has always displayed honesty, many actors should learn from him. With this production, he has again proven that he is indeed the most excellent blue chip. I believe whatever piece of work that is given to him, he will receive very good evaluation. I am very sure that among Korea's 20th century this generation's actors, he is the most outstanding one.
Joo Won's agency, Sim Entertainment representative Shen expressed: "Compared to when he first debut, he is even more outstanding now. He is always extremely polite, very honest. This is one of Joo Won's strongest point. Determined and sincere, regardless of whether in Bridal Mask and 2N1D, he has perfectly delivered to the audience
Source: Starnews
Translated from Korean to Chinese; minidadalove
Engtrans: mrdimples